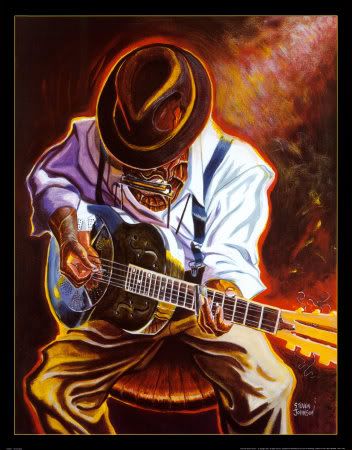 Blues är en form av vokal och instrumentell musik med ursprung i arbetssånger, sjungna av svarta i USA. Modern amerikansk populärmusik har starkt påverkats av blues, och särskilda musikformer som jazz, storbandsmusik, rhythm and blues, rock'n'roll och country, såväl som konventionell pop har uppkommit på grund av inflytande från blues, eller fått sin nuvarande form tack vare blues.
Bluesmusiken uppstod runt Mississippideltat under slutet av 1800-talet, en stil numera kallad deltablues.
Sitt stora kommersiella genombrott fick bluesen 1920 med sångerskan Mamie Smiths insjungning av Crazy Blues för bolaget Okeh som skall ha sålt i mer än två miljoner exemplar. Den moderna elektrifierade storstadsbluesen skapades i Chicago och fick sin stora spridning genom det legendariska skivbolaget Chess Records där artister som Muddy Waters och Howlin' Wolf gav ut sina skivor.
Blueslåtars text handlar ofta om problem eller olycka, framförda i en lösligt berättande stil. Namnet kommer från uttrycket in the blue moods, feeling blue och blue notes som betyder ledsen, sorgsen.
Listen to the songs in Grooveshark.
Ain't Nobody's Business - B.B. King
Crosscut Saw - Albert King
Crossroads [Live at Winterland] - Cream
Driving Wheel - Albert King
Dust My Broom - The Yardbirds
Five Long Years - Buddy Guy
Green Onions - Booker T. & The MG's
Ain't No Brakeman - John Mayall & The Bluesbreakers
(I'm Your) Hoochie Coochie Man - The Allman Brothers Band
HOUND DOG - Eric Clapton
Living On The Highway - Freddie King
Just a Little Bit - Rory Gallagher
Kansas City - Albert King
Killing Floor - Howlin' Wolf
reconsider baby - Joe Bonamassa
Shake Your Moneymaker - Elmore James
Sweet Home Chicago - Eric Clapton
Sweet Little Angel - B B King
Trouble - Ray LaMontagne
Have You Ever Loved a Woman - Derek and the Dominos
I'm Tore Down - Freddie King
Ramblin' on My Mind - Eric Clapton
Matchbox Holds My Clothes - Albert King
Red House (live) - Jimi Hendrix
Who Do You Love - Bo Diddley
Half of My Heart - John Mayer
Life By The Drop - Stevie Ray Vaughan
Blues For Narada - Gary Moore
Early In The Morning - Eric Clapton
Iceman - Albert Collins
Mustang Sally - Buddy Guy
Sloppy Drunk - Jimmy Rogers
Empty Rooms - Gary Moore
Midnight Blues - Gary Moore
Milkcow's Calf Blues - Robert Johnson
6:30 Blues - Joe "Boogaloo" Jones
Love Where Did You Go? - Dayna Kurtz
Burning Hell - Joe Bonamassa
Kind Hearted Woman Blues - Eric Clapton
The Easy Blues - John Martyn
Walkin' Blues (Unplugged CD Version) - Eric Clapton
Still Got The Blues (For You) - Gary Moore
Laundromat Blues - Albert King
Walkin' Blues Again - Eric Bibb
Sporting Life Blues - J.J. Cale & Eric Clapton
Fast Car - Tracy Chapman
Boom Boom - John Lee Hooker
One Bourbon, One Scotch, One Beer - George Thorogood
I'm in the Mood - John Lee Hooker
Hobo Blues - John Lee Hooker
Come On In My Kitchen - Robert Johnson
Mannish Boy - Muddy Waters
The Thrill Is Gone - B.B. King
Better Not Look Down - B.B. King
Rock Me Baby - B B King
How Blue Can You Get? - B.B. King
3 O'Clock Blues (Digitally Remastered) - B.B. King
Midnight Train - Buddy Guy
I Put a Spell on You - Nina Simone
Black Night - Joe Bonamassa
Slow Train - Joe Bonamassa
Prisoner - Joe Bonamassa
Further On Up the Road (Live From the Royal Albert Hall) [feat. Eric Clapton] - Joe Bonamassa
Tennessee Plates w/ John Hiatt - Joe Bonamassa
Mean Old World - T-Bone Walker
Papa Ain't Salty - T-Bone Walker
Blues Rock - T-Bone Walker
Foxy Lady - Jimi Hendrix
Red House (live) - Jimi Hendrix
Voodoo Chile Blues - The Jimi Hendrix Experience
Catfish Blues (live) - Jimi Hendrix
Born Under A Bad Sign - Albert King
Rock And Roll Hoochie Koo - Johnny Winter
Born Under A Bad Sign - Peter Green
I Got The Same Old Blues - Freddie King
Me And My Guitar - Freddie King
Ninety Nine - Sonny Boy Williamson
I Ain't Drunk - Albert Collins
Get Your Hand Out Of My Pocket - Elvin Bishop
School - Supertramp
Wang-Dang-Doodle - Howlin' Wolf
Champagne & Reefer - Muddy Waters
Messin With The Kid - Buddy Guy & Junior Wells
Tell Me Mama - Little Walter
Greenbacks - Ray Charles
Hallelujah I Love Her So - Ray Charles
Let the Good Times Roll - B B King
They Call Me the Breeze - J.J. Cale
Willie Mae - Professor Longhair
New "Shake 'Em On Down" - Tommy McClennan
It Hurts Me Too - Elmore James
This Train - Big Bill Broonzy
Regal Blues - Joe Louis Walker & Otis Grand
It Ain't What You're Thinkin' - Jimmy Witherspoon
My Babe - Little Walter
Worried Life Blues - Freddie King
Ragged and Dirty - William Brown
Stop Messin' Around - Fleetwood Mac
Doctor Brown - Fleetwood Mac
It Hurts Me Too - Tampa Red 
Too Tired - Johnny "Guitar" Watson
Blues Before Sunrise - Elmore James
A Boy Named Sue - Johnny Cash
Just A Dream - Billy Boy Arnold & Tony McPhee
Death Ray Boogie - Pete Johnson
Work Song (Alternate Take) (2000 Digital Remaster) - Cannonball Adderley
Hoochie Coochie Man - BluesMotel
Spoonful - BluesMotel
Key To The Highway - BluesMotel
Just A Dream - BluesMotel
Don't Stay Out All Night - BluesMotel
I'm Free - BluesMotel
Boom Boom, Out Go The Lights - BluesMotel
Smokestack Lightnin' - BluesMotel
Stop Breakin' Down - BluesMotel
Long Distance Call - BluesMotel
Santana: Black Magic Woman - Fleetwood Mac
Need Your Love So Bad - Fleetwood Mac
Seven Wonders - Fleetwood Mac
Fast Talkin' Woman Blues - Fleetwood Mac
I've Got My Mojo Working - Muddy Waters
Baby Please Don't Go - Muddy Waters
Howling Wolf - Muddy Waters
Manish Boy - Muddy Waters
Dirty Mother Fuyer - Billy Boy Arnold & The Groundhogs
I Wish You Would - Billy Boy Arnold 
Chicago Bound - Jimmy Rogers
Going Down - Freddie King
How It Lies, How It Lies - Big Maybelle
I've Got a Feelin' - Big Maybelle
That's a Pretty Good Love - Big Maybelle
Moanin' Low - Alberta Hunter
That's All Right - Arthur Big Boy Crudup
John Henry - Arvella Gray
Go To Sleep Little Baby - Bessie Jones
Backwater Blues - Big Bill Broonzy
Southbound Train - Big Bill Broonzy
Texas Tornado Blues - Big Bill Broonzy
Three Aces On The Bottom Of The Deal (A.K.A. Blues For Gamblers & Everybody's Blues) - Lightnin' Hopkins, Big Joe Williams, Brownie McGhee, Sonny Terry
Baby Please Don't Go - Big Joe Williams
Delta Blues - Big Joe Williams with Arthur Crudup, Sonny Boy Williamson & Joe Willie Wilkins
Rollin´ And Tumblin´ - Big Joe Williams
I Am The Black Ace - Black Ace
Blind Willie McTell - Wabash Cannonball - Blind Willie McTell
Broke Down Engine Blues - Blind Willie McTell
Joe Lee's Rock - Boy Blue, Willie Jones and Joe Lee
You Gonna Catch Trouble - David "Honeyboy" Edwards
Howlin' Wind - David "Honeyboy" Edwards
Intoxicated Rat - Doc Watson
Skillet Good And Greasy - Doc Watson
Shady Grove - Doc Watson
Old Joe's Barroom - Dock Boggs
Cole Younger - Dock Boggs
Down South Blues - Dock Boggs
Sugar Baby - Dock Boggs
My Black Name Is Ringing - Doctor Ross
Country Clown (Dr Ross) - Le Blues 1925-1952
How Many More Years - Howlin' Wolf
Running Scared - Roy Orbison
Levee Camp Reminiscence - Forrest City Joe
Drink On Little Girl - Forrest City Joe, Sonny Boy Rogers, Thomas Morgan
Shake 'em on Down - Furry Lewis
Judge Boushay Blues - Furry Lewis
Electric Chair Blues - Guitar Welch
Claude Allen (Hobart Smith) - Alan Lomax Collection
I'll Be Gone - Lightnin' Hopkins
Alabama - J B Lenoir
Move This Rope - J.B. Lenoir
Mississippi Road - J.B. Lenoir
Born Dead - J.B. Lenoir
V-8 Ford Blues - James Cotton
Parisienne walkways - Gary More
Who's Been Talkin' - Robert Cray
Please Don't Go - Walter Trout Band
Lovin' Whiskey - Rory Block
Stop - Lonnie Mack
Worried Blues - Buddy Guy
Listen to the songs in Grooveshark.
Om ni vill lyssna på riktigt skön webbradio med Blues föreslår jag http://www.wmpr901.com/ , http://www.classicbluesradio.org/ och http://www.laut.fm/bluesclub
Jag hittade några svenska sidor om Blues http://www.jeffersonbluesmag.com/ och
http://www.swedishblues.com/