Katy Perry, egentligen Katheryn Elizabeth Hudson, född 25 oktober 1984 i Santa Barbara, Kalifornien, USA, är en amerikansk singer-songwriter och skådespelerska. Hon är mest känd för sina singlar, "Ur So Gay", utgiven 2007, och hiten, "I Kissed a Girl", som 2008 toppade listorna i USA, Kanada och Australien. Även singeln Hot 'N Cold toppade också många listor. 2010 släpptes nya singeln California Gurls, som hon gjorde tillsammans med Snoop Dogg. Den har redan blivit en stor hit, och lär förmodligen bli den största singeln efter I kissed a girl.
Katy Perry's singles
2010 – Teenage Dream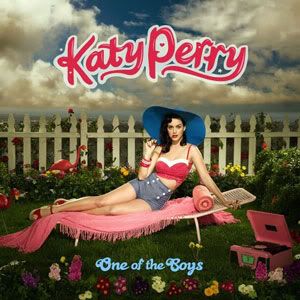 2008 – One of the Boys
2001 – Katy Hudson
Listen to the songs in Grooveshark.
Teenage Dream
Last Friday Night
California Gurls (feat. Snoop Dogg)
Firework
Peacock
Circle The Drain
The One That Got Away
E.T.
Who Am I Living For?
Pearl
Hummingbird Heartbeat
Not Like The Movies
If We Ever Meet Again
Starstrukk (feat. 3OH!3)
California Gurls (MSTRKRFT Main Mix)
California Gurls (Passion Pit Main Mix)
California Gurls (Armand Van Helden Remix)
Teenage Dream (Kaskade Club Mix)
One of the Boys
I Kissed a Girl
Waking up in Vegas
Thinking of You
Mannequin
Ur so Gay
Hot n Cold
If You Can Afford Me
Lost
Self Inflicted
I'm Still Breathing
Fingerprints
Use Your Love
I Think I'm Ready
A Cup of Coffee
Hook Up
Trust in Me
Piercing
Search Me
Last Call
Growing Pains
My Own Monster
Split
Faith Won't Fail
Naturally
When There's Nothing Left
Naturally (Single Version)
Listen to the songs in Grooveshark.
Externa länkar
Katy Perry på MySpace
Katy Perry på IMDb